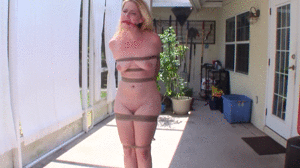 6:46 video
I had her strip her clothing off. That was the first thing I made her do. The next thing she had to do was to put on some heels for me, to show off her sexy legs even as I mistreated the rest of her. But then again, bound tightly to a pole wearing high heels can be stressful for some women. I should know; I've done this all before.
She is standing, with her back firmly pressed against the pole, no clothes on her delicious, sexy body. She is on display, for everyone to see, and there isn't anything she can do about it. She deserves this, I'm sure. They all deserve what I give them.
After a while it becomes obvious to me that she has too much movement, even completely bound to the pole as tightly as she is. So I throw on another bit of rope, just to make things more interesting. Now her neck is bound to the pole, also very tightly, and she is having trouble swallowing. But that's too bad, because later, we are going to exercise her ability to swallow and there won't be a thing she can do to stop it...