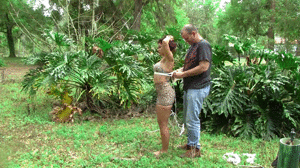 22:01 video
Enchantress Sahrye looks fantastic in her leopard print underwear. We are out in the woods and I want to do a tie that I have done with her before but that there wasn't any video for it. She comes over and gets in front of a large bushy area and gets ready.
Her breasts are entwined with rope creating a chest harness around her upper body. Her elbows are then tied together and her arms are pulled up and tied with her hands bent upwards by her fingers. Her legs are next, being bound above and below the knees. Her ankles follow suit.
A rope is added from her ankles, threaded through her chest harness and Ogre gives her a one-two count and yanks on the rope, lifting her chest up off of the ground in one of the tightest hogties ever done here at Ogre's World. Her bare feet never stop moving, showing how much work Sahrye has to go through to endure this very tough tie. Rope is added as a cleave gag and she is left to struggle on the ground.
I left some footage of her being untied at the end of this video so you could see how stressful this was for Sahrye. She really worked her ass off in this clip and for that I am very grateful. Thanks, Sahrye!