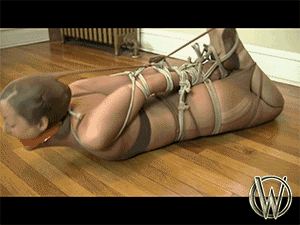 15:14 video
AJ Marion loves being encased in pantyhose but the office was out of tape and zipties. So instead, Ogre said let's do some rope encasement! AJ agreed to it, and why not? Two of her favorite bondage articles in the same video sounded like a splendid idea to her. So she got dressed in a pair of red and black frilly shoes and a black thong and came in to get to work.

Ogre starts the bondage by putting the hose over her arms and the top of her head, encasing her torso pretty well in the stretchy fabric. A second pair gets pulled up over her legs and then wrapped around her waist to secure them in place. Once she's already mostly helpless, he starts throwing the rope on like a madman, making damned sure this beauty doesn't get to go anywhere.

Her elbows get plastered together with the rope, behind her back of course. Ogre takes the extra leg of hose from around her waist and ties her legs down to her thighs with it. AJ is clapping while he does this, so Mr. O decides to secure her hands together with some rope, to keep those fingers from wandering too much. This rope secures her hands and arms to her waist and also pulls down her legs tighter into the folded position.

A white cloth is stuffed into her mouth, and secured down with red electrical tape! Mr. Ogre lied, just wanting to put rope on this beautiful woman. The top of the pantyhose leg on her head is pulled back, XXXX her to lift her chin up off of the floor. She wriggles this way and that, unable to stay still. Mr. Ogre is going to have to try way harder to keep her from moving...