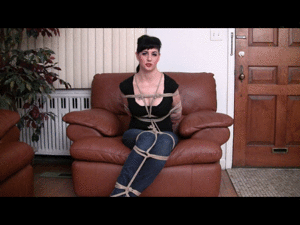 9:38 video
A girl is tied by Mr. Ogre in some manner. She is then given eight minutes to completely untie herself. During her attempt to escape, she is not allowed to damage herself in any way. If the girl is successful in her task to extricate herself from the bondage, she gets a prize and YOU get special bonus footage of another tie at the end of the clip. If she is unsuccessful, well...that is between her and Mr. Ogre...
Nyxon is wearing a pair of bluejeans and a black sleeveless top. Her shiny black peeptoe pumps are pretty spectacular too. Ogre has tied Nyxon in a boxtie with her knees together and her ankles as well. He anchors the top knee rope to her chest harness, keeping her from reaching any knots easily.
They have a really good time joking together. Nyxon has great charisma even when she's not trying for the camera. But in the end, there is only one thing that matters: does she escape? Watch and find out!