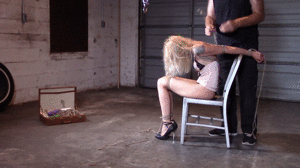 11:53 video
Emotions exploded inside my body making me barely standing and held on position. He started to untie me and I said all is over , but wait ! not yet...i could feel the rope around my neck and i was afraid of what is worse - that He will use one of the fetishes i love most to make me more miserable. I wanted to fight, but i was thinking in the same moment that if i am a good girl things will be more easier for me. So i sat there in silence with a fear born from a pleasure of a fetish and the excitement of unknown.He likes to play with my mind , He likes to keep me quaiet,to gag me and seal my mouth, so He can play with me as He wish.I knew it, from the moment the red wrap was wrapped around my face and mouth.
He likes to make me scream and is not the only one ...i think you like it to...YOU, who read this.
Winch has used to tighten up the rope around my neck, up and down , up and down, squirming, screaming and being afraid.
The cane is used on my legs to make His presence known, marks had been left to remind me of my place ..and despite all, i love it, every moment of it !


This is the second part of a three part video. Stay tuned for the final installment!!!