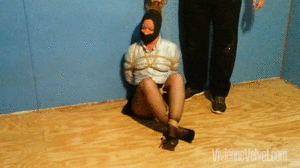 7:00 video
After hours at the office presented their own sort of issues. Fayth had been hired for a high powered position at a prestigious law firm but hadn't been there long enough to avoid the "weekend crunch" as some of the girls in the secretarial pool called it. Fayth would find that the "weekend crunch" had other meanings for her to learn to hate.
By seven o'clock, when the office had gone home, Fayth believed she was the only one left. She knew with this upcoming case against the Family she was going to be here working for a while. What she didn't know was that she was going to work on escaping for a while.
The "janitor" had her in a minute, stuffing her into the back of the nasty pickup truck bed. Within half an hour, she was way outside the city limits and had been brought into an unfinished house in the middle of nowhere. Now, trapped and bound, she was at the mercy of the Family who had hired this thug to keep her from her work.
He bound her arms and wrists behind her, keeping her from being able to reach any knots. Then stretchy athletic wrap was used to secure her mouth. Finally, her ankles were crossed and bound tightly before her legs were folded up and bound together. This caused her ankles to lock against one another and kept her from being able to straighten or bend her legs very much. Fayth wasn't going anywhere anytime soon.
As a final touch, Fayth has her chest resecured to her knees, keeping her from moving nearly at all, only allowing a little bit motion to fall over and make her predicament that much worse...