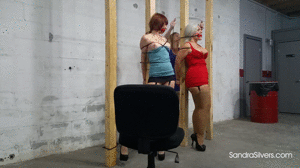 12:23 video
Along with Vivienne, Betrayed Sex-slave Sandra receives aggressive gagging and Zip tied Bondage Orgasms by Ravishing Rival Lisa!
Part 2 of a 3-part Custom Video!
After having made Vivienne endure the hazing last time (see update #408) Lisa betrays her big-titted lesbian co-slave, Sandra, as well! With a ziptie "intended for Vivienne, Lisa quickly lashes Sandra's wrists around the pole leaving Sandra helpless as Lisa duplicates the predicament they both doled out to poor Vivienne, Leaving Sandra's tits and pussy exposed for Lisa's aggressive designs. Lisa has always loved groping Sandra's massive mammaries and making her cum, but has never been so relentless. Lisa is hoping to scare the girls away to have Master all to herself, But when he arrives, He's not pleased with Lisa, not at all…
In Part 3, Lisa shares Sandra & Vivienne's predicament!