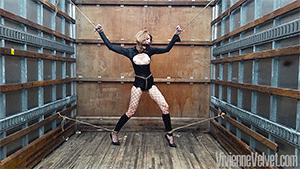 10:06 video
Vivienne loves to play the damsel in distress and so for this update I thought it might be fun to give her a little bit of what she wanted. We hopped into the back of our truck and decided to rig her up standing in very high heels with her arms and legs spread eagled to the sides of the van. This worked out pretty well for keeping her relatively immobile until she started yanking and twisting the ropes, trying to pose and be as helpless appearing as possible.
This of course pulled the ropes a little bit and gave her some slack. I simply couldn't have that and since I had started by being nice, and look at what that got me, so I come on over to her and really pull those legs wide. She was much less happy about this predicament and soon gave up the posing and acting since she couldn't concentrate from the discomfort in her legs and ankles.
She managed to work the gag out of her mouth at one point and by now I was thoroughly done with the antics and foolishness so I re-attached the ballgag and locked it in VERY tightly into her mouth. Now she was really uncomfortable and unhappy with the way things were going. That's too bad because I finally felt like I could get some peace and quiet, maybe take a nice nap.