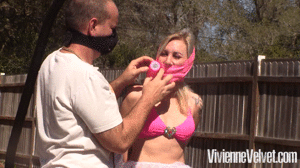 14:52 video
By this point in the shoot, Vivienne isn't exactly happy with the situations that I keep thrusting her into. Bondage may be a big fetish of ours but there comes a point that she begins to regret accepting her fate without a fight. I've let her loose enough from her bindings but instead of giving her a reprieve, I'm only adjusting her position so that I can make things a bit worse on her.
Firstly, I grab the vetwrap and begin ensuring that the ballgag will not move from her mouth. It's a real problem with subs, slaves and bottoms because ballgags are notoriously unreliable and difficult to get to stay in place without cranking them down painfully tight. But wrapping a Gwen style headwrap with stretch bandage tends to do a pretty good job of keeping mouths locked in position and so that's what I do with the pink wrap.
I add a chest/arm harness, pinning her arms in position rather than returning them to the strappado. I need to give her shoulders a rest and as such keeping her arms down seems to do a good job of that. She still tries desperately not to sink into the loose sand with her heels, but the perch I've placed her on seems to help that considerably. She tries to free her own hands and manages to just barely get some of the rope cinch loose but after that, she is resigned to being stuck for a while, at least until I decide to release her. Which isn't going to be anytime soon.